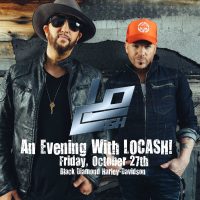 An Evening With LOCASH!! 
THIS IS IT!!  New location and new time!  Friday, October 27th at
Black Diamond Entertainment Center in Marion, IL!
Get your tickets beginning Monday, September 11th at 10AM! In person at River Radio Studios, Rt. 13 in Carterville, IL!  Don't miss THE BIGGEST party in Southern Illinois for St. Jude Children's Research Hospital!
This is our 7th annual "Evening with LOCASH" to benefit St. Jude.  Every year, Chris and Preston, along with your help, raise thousands of dollars for the kids!  And this year, we need you to come party with us!  New time, new location, and a bigger opportunity to bring in even MORE money for this amazing charity!  Make plans to join us in the Black Diamond Entertainment Center in Marion, IL!  Tickets are reserved seating at $50 and $30, CASH OR CHECK MADE PAYABLE TO "ST. JUDE".
VIP BOXES:  There will also be a limited number of VIP Boxes available.  You MUST buy the entire BOX (8 tickets). VIP Boxes come with 8 tickets/seats in your box, 8 eat & greets with LOCASH, one case of beer in your box, private bar upstairs and "facilities" upstairs as well.  VIP Boxes are $1000 (which = $125 per ticket).
You must purchase tickets in-person at Z100/River Radio Studios located just off Rt. 13, at 1431 Country Aire Drive, in Carterville, IL beginning at 10AM on Monday, September 11th.
In case you don't know, CMA-nominated and Reviver Records hot country duo LOCASH includes Baltimore, Maryland native Chris Lucas and Indianapolis, Indiana's Preston Brust. Their smash No. 1 hit "I Know Somebody" topped Billboard Country Airplay and Country Aircheck after their RIAA Gold-Certified "I Love This Life" single ascended to the top of the charts. Both hits are included on their new album THE FIGHTERS, their first full-length project with Reviver Records. The nonstop duo continues their North American tour to promote THE FIGHTERS. LOCASH is also featured in Comcast Built Ford Tough® dealer advertising campaigns and in Pennzoil® Garage sessions. Visit LOCASHmusic.com for more information!
If you missed it, here's the official announcement from LOCASH and the #KiTC Morning Show…