Chris Janson just WON an ACM Award for video of the year!  "Drunk Girl" is an amazing song, and the video filmed on Lower Broadway in Nashville features subject matter that everyone needs to know about!  Good stuff!  Chris' story is a a beautiful, crazy, wild, emotional, and motivational ride.  His hometown of Perryville, MO just unveiled a "Welcome" sign in his honor!  Check it out!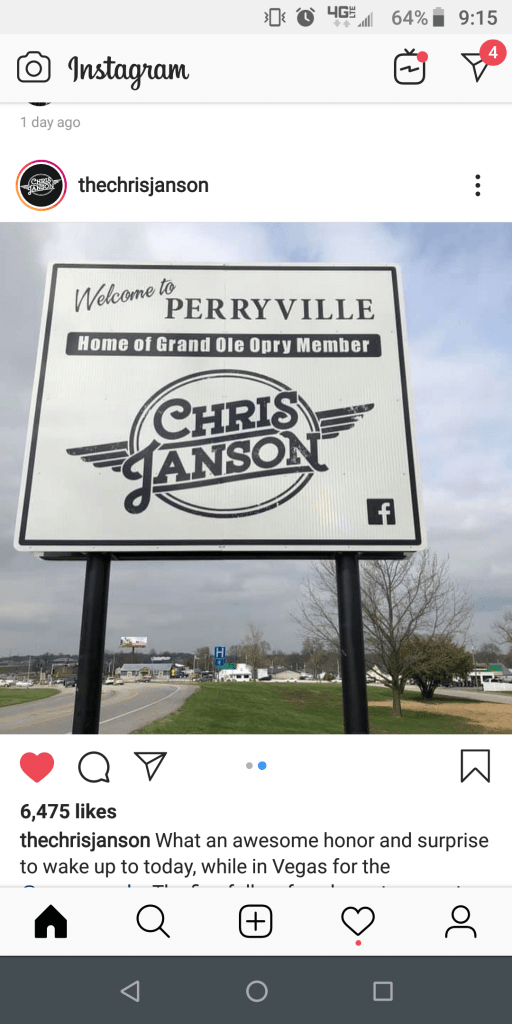 The road to the Grand Ole Opry and country music stardom has not been an easy one for Chris.  Check out this video from CRS about 6 years ago where he talks about being homeless in Nashville for a while…
Hard work pays off!  Chris Janson is gonna continue to be one to watch in country music!  Go check him out in concert!  And follow him on social media!
Here's Chris performing with ACM Entertainer of the Year, Keith Urban, on the Grand Ole Opry stage!
---
It's your Monday Morning Motivation!  Monday's can be tough, but with a little motivation, YOU CAN DO THIS!  Every Monday morning on the #KiTC Morning Show, I'll share something with you on the air, and on the web, to get your week started off right!  The Monday Morning Motivation on New Country Z100 proudly presented by "Rise Above It" Bakery and Cafe in downtown Carterville, and by Rural King!