Monday -- 02:00 PM - 07:00 PM
Tuesday -- 02:00 PM - 07:00 PM
Wednesday -- 02:00 PM - 07:00 PM
Thursday -- 02:00 PM - 07:00 PM
Friday -- 02:00 PM - 07:00 PM
Saturday -- 09:00 AM - 02:00 PM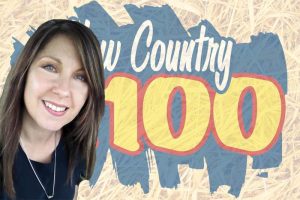 Name: Shawna Matthews
Hometown: Carbondale, Illinois
What artist did you grow up listening to? I grew up in Middle Tennessee and was exposed to all kinds of music. My Dad wrote country and gospel songs & I listened to Nashville, TN radio stations.
How did you get into radio? I wondered how everything worked behind the scenes. (What do those DJ's do when the songs are playing?) I have always loved music & thought it would be fun.
What is your one guilty pleasure song that you sing along to every time you hear it?
Mama's Broken Heart by Miranda Lambert, I Wanna Talk about Me by Toby Keith, Lesson In Leavin' by JoDee Messina and Redneck Woman by Gretchen Wilson.
Tell us something about yourself that only your friends would know.
I enjoy jumping out of perfectly good airplanes.
If you could meet one person, dead or alive, who would it be and why?
That's a tough question: Probably Marilyn Monroe. I think she was misunderstood and not taken seriously as an actress because she was so beautiful.
What is your favorite Holiday? Thanksgiving and Christmas. People tend to be kinder around the holidays.
What song would best describe your life? These are my People by Rodney Atkins
If you had a super power, what would it be? To cure cancer & AIDS.
Who has been your favorite Meet & Greet? The Cadillac Three, Devin Dawson, Gretchen Wilson.
What random food combination do you love? Hoppin' John is good.
Favorite thing(s) to do in Southern Illinois: We have a lot of talented musicians in Southern Illinois. I love listening to music!
Any hidden talents? If I told you, they wouldn't be hidden anymore.
If you weren't at Z100, what would you be doing? I'd probably be doing something creative – a designer of some type, probably jewelry or interior design.
Favorite Country Artists: Kacey Musgraves, The Cadillac Three, Miranda Lambert, Thomas Rhett.
Favorite Country Song: Family is Family by Kacey Musgraves, Get Your Buzz On by The Cadillac Three, I Can't by Caitlyn Smith and Old Dominion, Never Be Sorry by Old Dominion, Don't Rush by Kelly Clarkson & Vince Gill, Just got Started Loving You by James Otto, Harper Valley PTA by Jeannie C. Riley and In America by The Charlie Daniels Band.
What do you like best about working at Z-100? Working with the best people in the business, being able to give our listeners awesome prizes, fun promotions and contests and St. Jude Fundraising.