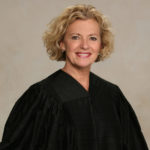 CHICAGO (AP) — The Illinois Supreme Court will add 14 volunteer lawyers to help accelerate the appeal process of criminal cases.
The Chicago Sun-Times reports that the state's high court launched a six-month program aiming to assist with clearing the backlog of Cook County criminal appeal cases.
Illinois Supreme Court Justice Anne Burke says, "Similar programs have been used in other states to help reduce backlogs." But Locke Bowman, executive director of the MacArthur Justice Center, says pro bono volunteers won't be enough to resolve a backlog created by insufficient publicly funded appellate defense lawyers.