Sunday, Tuesday, Wednesday, Thursday, Friday, Saturday -- 12:00 AM - 06:00 AM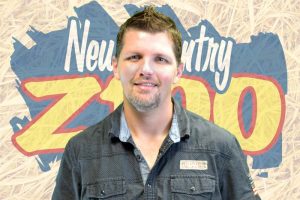 Name: Josh Gass
Hometown: West Frankfort, Illinois
What artist did you grow up listening to? Dolly Parton, Tanya Tucker, Alabama, Dwight Yoakam, Reba, the Judds, George Strait
How did you get into radio? I was 16 and really interested in radio… and my first gig was engineering ball games for Marion football, basketball, Sunday morning church services, and nascar! I kept pursuing my interest, and found myself right here!
What is your one guilty pleasure song that you sing along to every time you hear it?
There are two, 9 to 5, and One Way or Another! For some reason when I hear them I can't get them out of my head!
Tell us something about yourself that only your friends would know.
That I have a cheese addiction! Or that I am also a substitute teacher during the school year!
If you could meet one person, dead or alive, who would it be and why?
Music—Tammy Wynette
Movie/TV—Marilyn Monroe or Lucille Ball
What is your favorite Holiday? Thanksgiving—I love spending time with family and friends!
What song would best describe your life? Don't know if I can pick one… lol, if I had to just pick one, it would be……… I'm in a hurry and don't know why. By Alabama
If you had a super power, what would it be? To freeze time!
Who has been your favorite Meet & Greet? Dolly Parton, or Reba!
What random food combination do you love? Pizza and Tacos
Favorite thing(s) to do in Southern Illinois: hiking or running anywhere there is a great scenic park… giant city, rend lake, fern cliff!
Any hidden talents? Not very talented! Sorry!
If you weren't at Z-100, what would you be doing? Probably working at a grocery store… or maybe teaching school!
Favorite Country Artists: Dolly Parton, Florida Georgia Line, Miranda Lambert, Pistol Annies, Tanya Tucker, Eric Church, Tim McGraw, Lady Antebellum, Reba, Tammy Wynette, Taylor Swift…. You know all of them! Lol.
Favorite Country Song: too many to name… whyd you come in here lookin like that, cruise, gun powder and lead, takin pills, don't go out, creepin or springsteen, down on the farm, need you now, is there life out there, good girls gonna go bad,
What do you like best about working at Z-100? I love working for a station that puts so much into raising money for St. Jude's Children's Research hospital and I love having a great group of people to work with especially the on air folks with z100, there not just co workers they are my friends, and extended family…