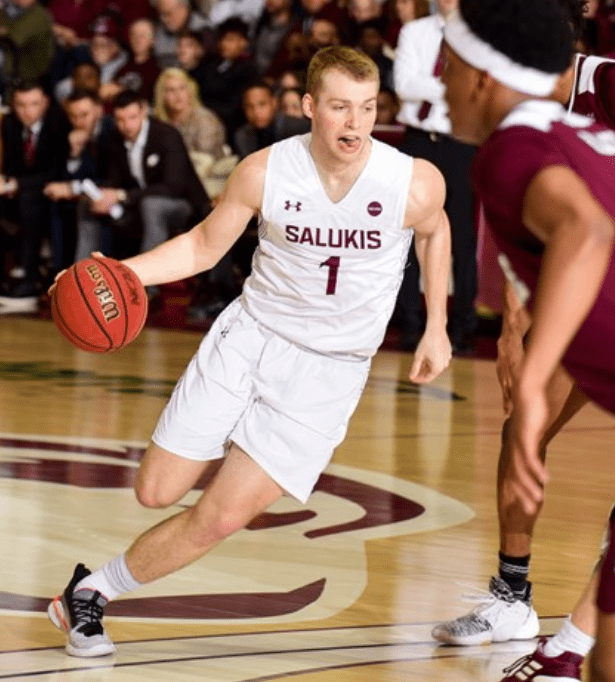 KANSAS CITY, Mo. – SIU freshman forward Marcus Domask was named to the National Association of Basketball Coaches All-District 16 Second Team, the organization announced Monday. Since 2005, Domask is the eighth Saluki to earn a spot on the All-District First or Second Team, and he is the first SIU freshman to earn an All-District nod.
Domask, the 2020 MVC Newcomer and Freshman of the Year, produced one of the great freshman seasons in Saluki history. His scoring average (13.7 ppg) ranks second all-time at SIU among freshmen only to Charlie Vaughn in 1959. Domask led all MVC freshmen in scoring and assists, and he ranked second in rebounds and third in steals. He scored in double-figures 22 times, including five 20+ point games, and had two double-doubles. A Waupun, Wis., native, Domask scored 28 points at Drake — the most by an MVC freshman in a league game since 2014 — to lead the Salukis to snapping Drake's 15-game home court winning streak. He hit the game-winning jumper as time expired in SIU's 68-66 win over Missouri State.
The team was selected and voted on by member coaches of the NABC in NCAA Division I. SIU had a player earn All-District honors for the sixth-straight season.
About the National Association of Basketball Coaches
Located in Kansas City, MO, the NABC was founded in 1927 by Phog Allen, the legendary basketball coach at the University of Kansas.  Allen, a student of James Naismith, the inventor of basketball, organized coaches into this collective group to serve as Guardians of the Game.  The NABC currently has nearly 5,000 members consisting primarily of university and college men's basketball coaches.  All members of the NABC are expected to uphold the core values of being a Guardian of the Game by bringing attention to the positive aspects of the sport of basketball and the role coaches play in the academic and athletic lives of today's student-athletes.  The four core values of being a Guardian of the Game are advocacy, leadership, service and education.  Additional information about the NABC, its programs and membership, can be found at www.nabc.com.
NABC All-District (SIU players since 2005)
---
2005 – Darren Brooks, G (First Team)
2007 – Chris Lowery, Coach
2007 – Jamaal Tatum, G (First Team)
2007 – Randal Falker, F (Second Team)
2008 – Randal Falker, F (Second Team)
2011 – Carlton Fay, F (Second Team)
2015 – Anthony Beane, G (Second Team)
2016 – Anthony Beane, G (First Team)
2017 – Sean O'Brien, F (Second Team)
2018 – Armon Fletcher, G (First Team)
2019 – Armon Fletcher, G (Second Team)
2020 – Marcus Domask, F (Second Team)