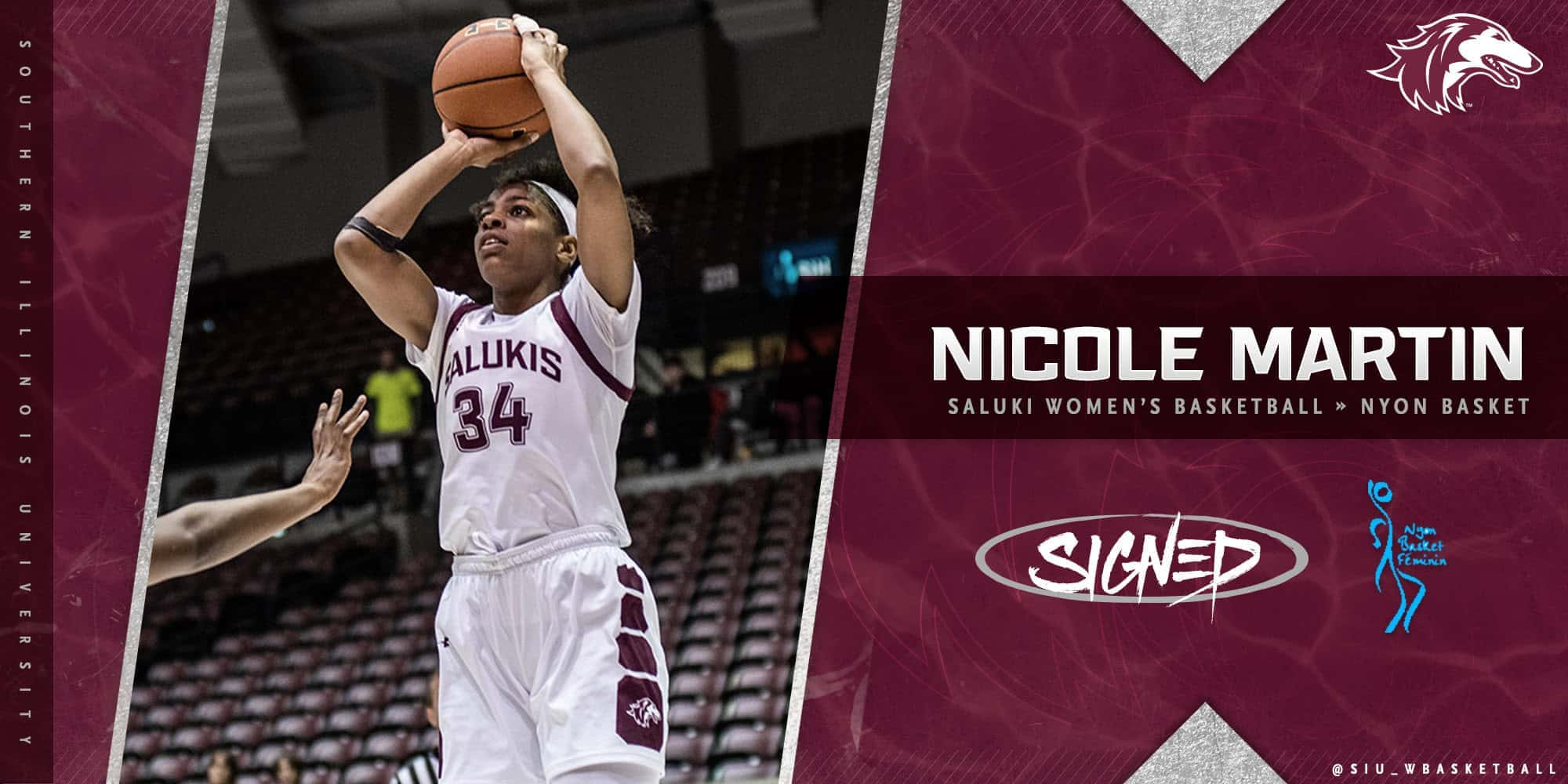 CARBONDALE, Ill. – Recent Southern Illinois University graduate Nicole Martin became the 12th Saluki women's basketball player to sign a professional contract this week, inking a deal with Nyon Basket in Nyon, Switzerland.
Nyon Basket plays in the top-tier of the Swiss Basketball League and went 5-12 to finish eighth out of nine teams during the 2019-20 season. One of two Americans currently listed on Nyon's roster, Martin will team up with Stanford graduate Shannon Coffee to provide an inside presence for a squad in need of athletic bigs. The Jefferson City, Mo. native will be the third player on the roster over 6′ tall and will look to help Nyon claim its first SBL title since 1984 when she joins the team in September.
Martin became the ninth player in program history to earn three-straight all-conference nods after she averaged 12.7 points and 5.4 rebounds as a senior at SIU. She reached double figures in 21 of 29 games in her final season and finished her Saluki career ranked in the top-10 in school history for both career points (8th; 1404) and career rebounds (10th; 711).
"I am so proud of Nicole because I know how hard she has worked to attain this special opportunity," SIU head coach Cindy Stein said. "She is a very talented young lady and will be a great asset to that program as she was to ours."
The two-time MVC Scholar-Athlete team selection becomes the 12th in school history to ink a professional deal and is the third to do so in the past five years under Stein. Martin also holds the distinction of being the second Saluki to play professional in Switzerland: SIU Hall of Famer Anita Scott played for Lausanne, Switzerland after she graduated in 1993. Lausanne currently plays in the second tier of the SBL.
"I would like to thank my coaches for the opportunity to be a Saluki, for never giving up on me and for pushing me to be my best," Martin said. "They've helped me become a better athlete and, most importantly, a better person. I would also like to thank all of my teammates, past and present- it was awesome playing the game I love with a group of girls that mean a great deal to me."
Saluki Professional Players
---
Bonnie Foley – WBL St. Louis Streak (1979)
Jeri Hoffman – WBL St. Louis Streak (1979)
Connie Howe – All-American Redheads, WBL Minnesota Fillies, New York Stars (1979-81)
Amy Rakers – Saginomiya of Japan Women's Basketball Association
Anita Scott – Switzerland and Greece
D.D. Plab – Ireland
Petra Jackson – WBA Illinois Knights (1993-95)
Molly McDowell – ProBuild Loon Lions (Holland, Amsterdam)
Christine Presswood – WUSBA Jacksonville Surf
Dyana Pierre – Finland , Sweden, Canada, France
Rishonda Napier – Serbia, Bosnia, Romania
Nicole Martin – Switzerland