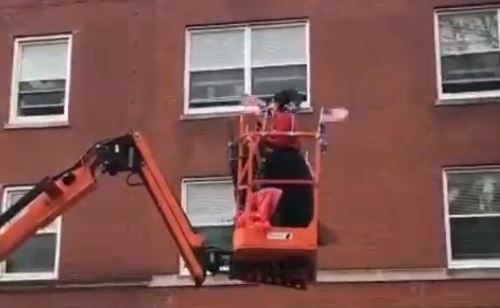 Colette Hawley is a talented singer and enjoys sharing her gifts with senior citizens — but the coronavirus has made things difficult.
But just because she's not allowed to enter nursing homes doesn't mean she can't sing for the residents.
Colette solved the problem by bringing in some heavy machinery. She rented a 30-foot cherry picker bucket truck, which allowed her to sing from a safe distance, outside the third and fourth floor windows of a nursing home in Chicago.
Residents clapped and waved — and some even danced.
Her recent performance from the cherry picker is just her latest performance, as Colette has been singing to seniors and Alzheimer's patients across the country since 2014.
But clearly, she's not letting COVID-19 stop her from sharing her gifts and putting smiles on the faces of others. (NY Post)
---
I rented a Cherry Picker to sing to seniors(close but not too close!)for Memorial Day.This is an unbelievably hard time for them. I love & value our seniors. NO ONE IS DISPENSABLE.
Offering free shows to nursing homes. ❤️coco @maddow pic.twitter.com/FzlDiQcPar

— Colette Hawley (@HawleyColette) May 24, 2020