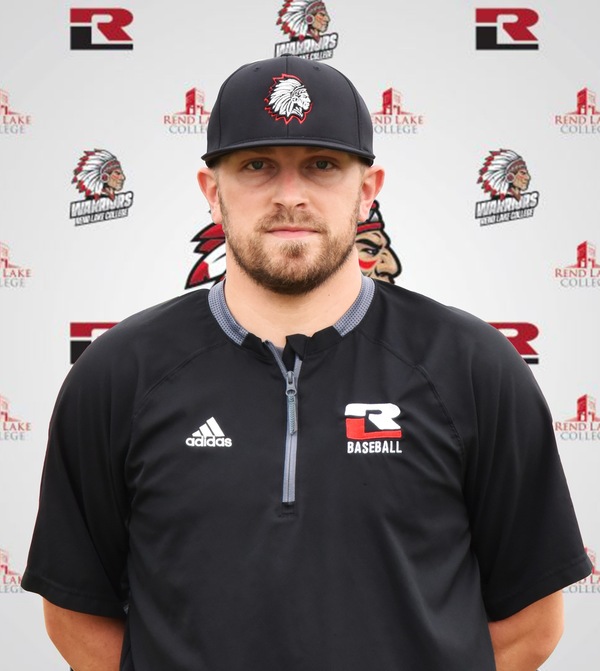 INA, Ill. (Sept. 1, 2020) — Rend Lake College has announced the hiring of its next head baseball coach — one who arrives with plenty of coaching experience.
Walker Bullington, a native of Russellville, Tenn., will take over for the Warriors in the 2020-21 season becoming the 11th head coach in the history of RLC's baseball program. Bullington said he has always had a passion for coaching, but Rend Lake College is the first opportunity he has received to run his own collegiate program.
"I would like to thank (Athletic Director) Mr. Tim Wills, (Associate VP of Academic and Student Services) Mr. Buster Leeck and (RLC President) Terry Wilkerson for putting their faith in me and trusting me in this process," Bullington said. "This is the opportunity to run my own program — to take responsibility — and they put their trust in me and decided I was the right fit and will do things the right way."
RLC had about 30 candidates apply for the position and conducted interviews via phone and video conferencing.
"After completing the interviews, it became very clear that Walker Bullington was the best person to lead our baseball program into its next phase," Wills said. "Walker has experience coaching at various levels of baseball and I believe is ready to become a head coach that will continue and expand the success that our program has enjoyed over the years. He is a personable young man who will be a great addition to our college and our surrounding communities. We feel very fortunate to have hired such an outstanding person to lead our baseball program and I know that he is equally excited to be a part of Rend Lake College."
Bullington's background in baseball is extensive. He started conducting private lessons while he was a player at Carson-Newman University in Jefferson City, Tenn. After teaching middle school mathematics out of college, his appetite for coaching grew, and it led him to various stints around the United States and other parts of the world. Most recently, he was named head coach of the Wheat City Whiskey Jacks who are a collegiate summer team based in Manitoba and are part of the Expedition League, although the season was cut short because of COVID-19. Before his hiring in Canada, he was a member of the coaching staff for the Spring Hill College Badgers, a Southern Intercollegiate Athletic Conference member from Mobile, Ala. In 2018, as head coach of the Little River Blue Crabs, Bullington's team won the Carolina Shores Collegiate Summer Baseball League title. Other college experience includes his three years as an assistant coach with the College of San Mateo Bulldogs in California along with time spent as a collegiate coach in Puerto Rico. Bullington has worked coaching youth camps for the Atlanta Braves, Washington Nationals and New York Yankees. And he spent time as the General Manager, Coach and Tournament Director for the Hit Factory in Singapore.
"Baseball has been my ticket around the world," Bullington said. "I've had the opportunity to gain a lot of friends and meet a lot of great people."
Bullington feels those connections will pay off from a recruiting standpoint. And recruiting is an area where he feels his past experience will help pay off.
"I've had recruiting experience at all different levels and I think I've learned something at each level," he said. "I've recruited guys from all over."
Bullington said he's built connections in the larger metro areas around Rend Lake College such as St. Louis, Nashville and Chicago, but he will be reaching out to local high schools to find talent for future teams. And one key attribute he said he looks for is a high level of character.
"I want us to be uncommon. Uncommon in the way we carry ourselves and take pride in doing the little things," Bullington said. "That's why I look to bring in the consummate 'team guys.' I think I've learned what that type of player is."
RLC will honor all scholarships awarded under previous head coach Tyler O'Daniel. And that can include any athletes from last year's team. The NJCAA did not charge a year of eligibility to any players last season after the schedule was cut short in mid-March.
Finding the right type of players could be a key component in a season of unknowns. After the Spring 2020 campaign was cut short, there is still uncertainty about what the upcoming season will look like.
"I think the biggest thing for me is to keep everybody healthy and get back to some kind of normalcy," Bullington said. "Hopefully we get a chance to compete."
The NJCAA has moved all competition to the spring semester for baseball. Fall practices may be allowed for the team, but a ruling has not officially been made at this time. Bullington said he is expecting a lot of new rules and regulations for player safety but sees that as a competitive advantage if the team goes about it the right way.
"It's going to be different but I want us to embrace the grind. I think the team that handles themselves the best is going to separate themselves from the group," he said.
Bullington also is not the only coach in his household. His wife, Samantha, is an assistant coach for the women's soccer program at the University of South Alabama. He said the encouragement of family and friends has helped him to where he is today.
"First off, I want to thank my mom and dad for always being there and being the best parents in the world. I wouldn't be the man I am today without them. I want to thank my wife for her constant support, love and for making me better every day," Bullington said. "I want to thank my Mamaw Sue for being my No. 1 fan, all of the coaches who have had an effect on me, all of my former players and teammates, and all of my friends. I have been fortunate enough to learn from some of the best coaches and people in the game. It would be impossible to thank everyone who has helped me get to where I am, but they know who they are, and I hope they know they're appreciated."