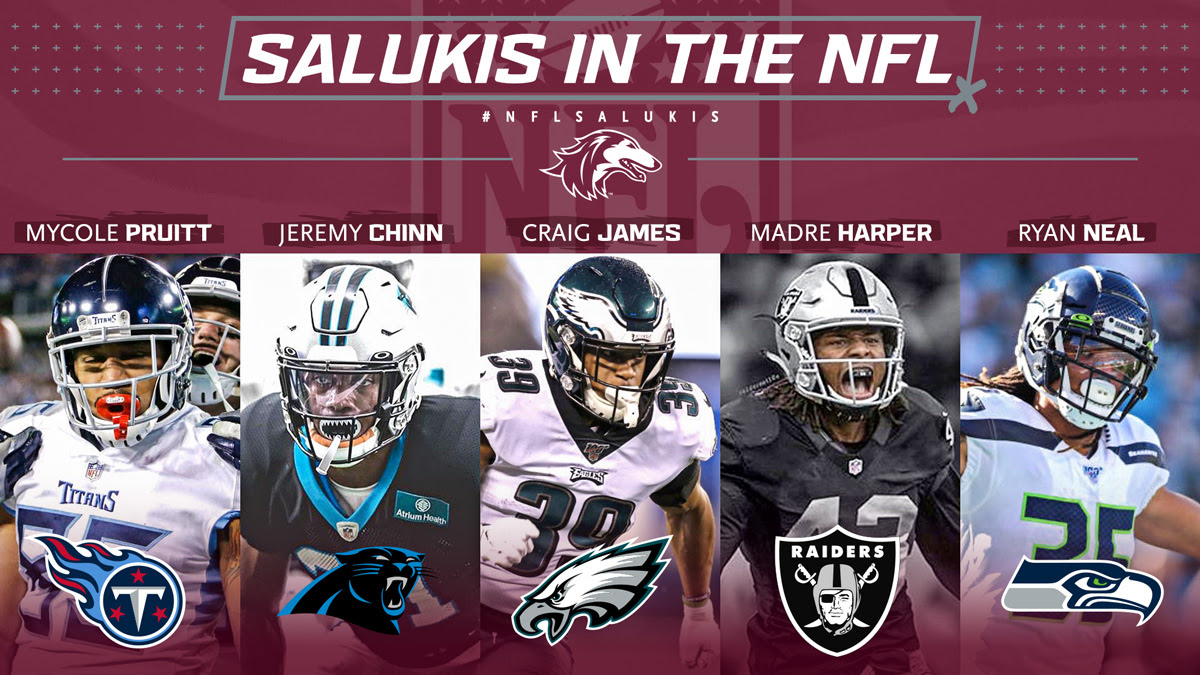 CARBONDALE, Ill. — As the National Football League enters Week 1 of its season, five former Southern Illinois football players have made NFL rosters. Tight end MyCole Pruitt (Tennessee), cornerback Craig James (Philadelphia) and safety Jeremy Chinn (Carolina) are on active rosters, while cornerbacks Ryan Neal (Seattle) and Madre Harper (Las Vegas) are on their team's practice squads.
In the history of Saluki Football, 40 players have gone on to play in the NFL. Chinn, a rookie, is expected to become the next player to join the list when the Panthers play the Raiders on Sunday. A 2019 All-American at SIU and a second-round pick in the 2020 NFL Draft, Chinn is listed as a co-starter at linebacker for Carolina.
Pruitt, who is SIU's all-time leader in career receptions with 221, begins his sixth season in the NFL. He was originally drafted by the Minnesota Vikings and set a career high with 10 starts last year for the Titans.
In his first season with the Eagles in 2019, James ranked second on the team with a career-high 12 special teams tackles and appeared in the fifth-most special teams snaps. James entered the NFL as an undrafted free agent with the Vikings after graduating from Southern in 2017.
Neal has played in four NFL games the last two seasons with the Atlanta Falcons and Seattle Seahawks. He was signed to Seattle's practice squad last week.
Harper made the Raiders' practice squad after signing as an undrafted free agent last May. He ranked among the nation's leaders in pass breakups in 2019.