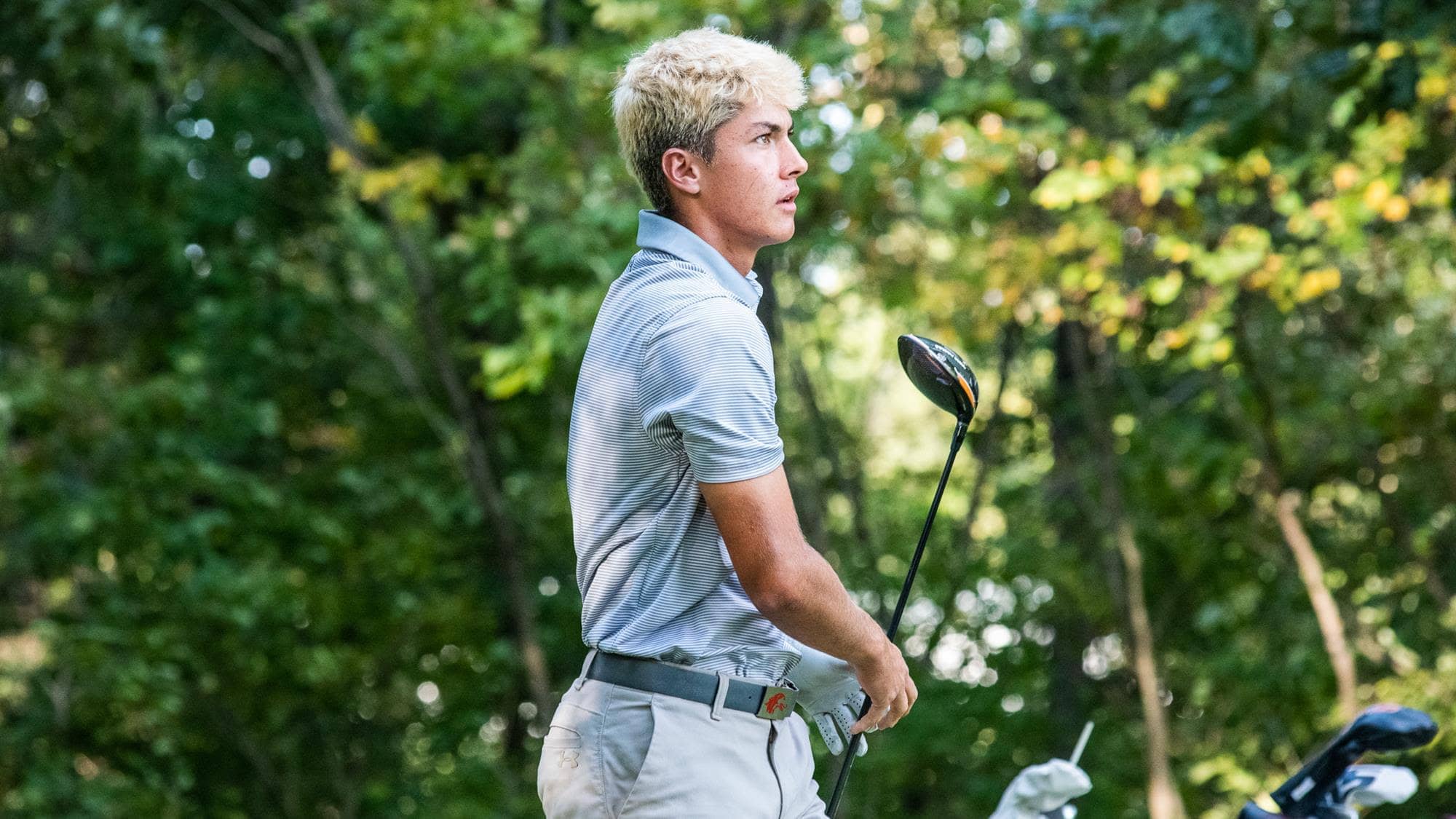 The Southern Illinois men's golf team took fourth place at the 2021 TVA Community Invitational, which wrapped up Tuesday with 18-holes at the Turtle Point Yacht & Country Club in Killen, Alabama. The Salukis were consistent through all three rounds, shooting 296, 293, and 296 to finish with a total of 885 (+21).
SIU senior Matthis Besard and freshman Braden Hoisington shined for the Salukis in the last event of the 2021 fall schedule. Besard fired 71 on the final day of play to finish in third place with a score of 213 (-3). Hoisington carded 74 to finish tied for fourth place with a two-day total of 215 (-1).
Senior Tom Cleaton and junior Andrew Thornton competed as individuals; both finished tied for 24th place with a score of 226 (+10). Senior Markus Wilhelmsen carded 75 in the final round to tie for 37th place. Graduate Birgir Magnusson tied for 39th place with a score of 231 (+5) and sophomore Justin Wingerter shot 234 (+18) to tie for 46th.
What's Next
The Salukis return to play February 11, 2022 when they travel to St. George, Utah for the Pizza Hut Pat Hicks Thunderbird Invite, hosted by Southern Utah University.
Teams
1 North Alabama 281 297 289 = 867 (+3)
2 Valparaiso 291 290 294 = 875 (+11)
3 UT Martin 297 290 295 = 882 (+18)
4 Southern Illinois 296 293 296 = 885 (+21)
5 Rollins College 298 296 297 = 891 (+27)
6 Southeastern Louisiana 300 300 297 = 897 (+33)
7 Murray State 302 296 313 = 911 (+47)
8 Stetson 313 296 306 = 915 (+51)
9 Chicago State University 300 299 317 = 916 (+52)
10 Texas Southern 315 303 304 = 922 (+58)
11 Alabama A&M 321 323 321 = 985 (+101)
Southern Illinois
3 Matthis Besard 70 71 71 = 213 (-3)
T4 Braden Hoisington 68 73 74 = 215 (-1)
T24 Andrew Thornton 76 76 74 = 226 (+10) *Individual
T24 Tom Cleaton 80 71 75 = 226 (+10) *Individual
T37 Markus Wilhelmsen 81 74 75 = 230 (+14)
T39 Birgir Magnusson 78 74 79 = 231 (+15)
T46 Justin Wingerter 80 78 76 = 234 (+18)