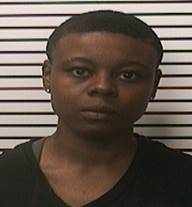 CARBONDALE, Ill. (WJPF) – A Carbondale woman was arrested on assault and weapons charges after police say she fired a gun during a fight.
Carbondale Police say at about 7:30 a.m. Monday, officers broke up a fight involving several people in the 700 block of South Lewis Lane. They say their investigation determined that Camille Sanders, 30, fired at least one shot. No injuries were reported.
Camille Sanders was taken to the Jackson County Jail on charges of aggravated assault, aggravated unlawful use of a weapon and aggravated discharge of a firearm.