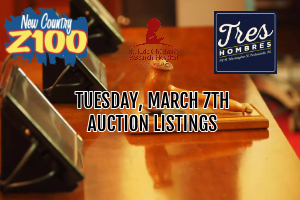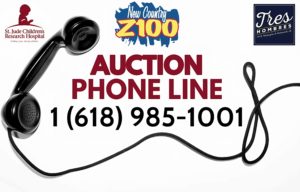 It's that time again!!! Welcome to the first day of our 2023 Live Auctions for St Jude! ALL proceeds from each day of auctions will be donated directly to St Jude and the incredible, life-changing services they provide to so many children yearly. River Radio is proud to be able to partner with St Jude to help change countless lives! Listen in as we go item by item LIVE on the radio!  If you find something you want, call in to our phone room at (618) 985-2001 and tell us how much you'd like to bid.  Bid high and bid early!  Things get crazy at the end of each hour and you don't want to be outbid!  If you are the high bidder, we ask that you please come by River Radio Studios on Rt 13 in Carterville and pay with cash, or check made payable to "St. Jude", within 2 business days.  Thank you for helping the kids of St. Jude!
---
7:00am – 8:00am
---
1A  Opry Package: "Backstage at the Opry" book and voucher for two (2) tickets to show of your choosing (based on availability) Expires 12/2024
2A  Kaleb Austin Package: "Sun Goes Down" t-shirt & matching cap (XXL t-shirt size)
3A  Hollywood Classics Collection: Danbury Mint Shirley Temple Doll "Dimples"; Cary Grant Movie Classics DVD featuring four (4) Cary Grant classic films
4A  Hank Williams Jr. Package: Signed 8×10 photo; Pair of RESERVED SEAT tickets to June 16th (6/16/23) show at the Hollywood Casino Amphitheater in St. Louis, Missouri.
5A AES Solar Package: An EcoFlow River Mini Portable Power Station with a bundle of AES Solar swag. (Retail Value: $200) CLICK HERE for details on the EcoFlow River Mini Portable Power Station.  (Unit is NEW in box)
6A Nora Fleming Charcuterie/Wood Tasting Board: Includes two (2) decorative mini accessories – "Pumpkin Spice" pumpkins & "In the Breeze" palm tree
7A Time for Polar Whip –  Beautiful Wooden Mantel Clock and a $10 gift certificate for Polar Whip.
8A Louie's P&R Gift Basket $100 value – beautiful gift basket featuring all things "Louie's"  – many favorites!
9A St. Jude Package: T-shirt (your choice of size from M-4XL), St Jude coffee mug, and St Jude drink bottle
10A Flabby Daddy Dips Gift Basket –5 different Flabby Daddy Dip mixes + Rold Gold Pretzels + Beer Bread mix + Breton crackers
11A Parker McCollum Concert Tickets – May 6th at the Show Me Center- Special Guest: Larry Fleet
12A  ALL I Need is Coffee and Jesus – sweatshirt from HDT Crafts – Carolyn Taylor
---
8:00am – 9:00am
---
1B    Blue Tanzanite & Diamond Ring Set in Rose Gold + Jewelry Cleaner from Diamond Designs (donated by Nicole Loucks)   – Value $1200 RING PIC 2
2B   CAHRL J's Creations Party Animal Gift Basket –  'Like to Party' Tumbler, Party Animal cap, 2 tshirts, hair scrunchie & more
3B  Sullivan's Lawn Care $75 Gift Certificate for Spring or Fall Cleanup/Mowing/Landscaping – SALINE COUNTY ONLY | Expires Oct 2023
4B  SI Medical Weight Loss – Marion – Consultation – $100 value (no meds included)
5B  Snow Power Birthday Party (up to 30 kids)- 1 hr in gym; 1 hr in party room $215 value  Expires one year from purchase
6B  Tignanello Purse (gently used) & Aurora the Polar Bear Beanie Baby
7B  St. Jude Package Music Gives – T Shirt; Soup Mug; Water Bottle
8B  Kacey Musgraves Collectors' Album – "Same Trailer Different Park" *Unopened*
9B  Rooster & Chicken Package:   Rooster Plate Collection –  +Fried Chicken Buffet for 2 Gabby & Granny's located on Rt. 37 between Marion & Johnson City
10B DeLightful Package –   Solar Powered Dream Lights – $25 Gift Certificate for Snowie G's Frozen Freeze Dried Candy
11B  Aaron Lewis Concert Tickets – June 3rd at the Show Me Center
12B  Family Game Night – 3 fun games for the whole family to enjoy:  BuzzWord, Scribblish & Play Nine