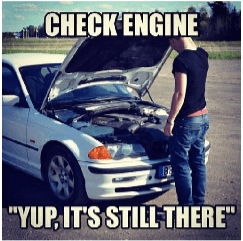 Ever had a nightmare road trip? My husband & I are recovering from one. When that "engine" light comes on as you're traveling down the interstate, it's never a good thing. Things were going swimmingly Wednesday afternoon as we were traveling to Southaven, MS to a dog show. Vehicle loaded down with the three dogs & all their luggage & equipment for the show, plus our stuff. Heat index in triple digits. Somewhere in that land between Missouri, Tennessee & Arkansas is where it happened. Engine light on. After eliminating the simple things according to our owner's manual, we decide to attempt to make it to the nearest dealership that will work on our 14 year old Lexus RX300. 
On our way to the dealership, we called our mechanic for advice. The answering machine came on. It was after 4 & they were closed. But "Bobby" was still there & I guess he heard the desperation in my voice, so he picked up. He advised us what was potentially going on with the car & what to ask the service department to check. After waiting an hour in the air conditioned service department (which let us bring our dogs in), it was time for the dealership to close so they told us they'd call us tomorrow with the diagnosis. We rented a vehicle from a popular, national rental company nearby & continued on our way to Southaven, about 2 hours down the road. "Tomorrow" came & went with no news from the dealership. 
Friday mid morning we called them & the service manager told us our two options. Option #1 would cost $895 and that was only to diagnose the problem, not to fix it. Option #2 would cost $5000 to put a new engine in the vehicle. After I picked myself up off the floor, we asked "Brett" if our mechanic could call him in a few minutes. I highly recommend everyone have a good mechanic they can depend on and are loyal to. Our long time mechanic, had a conversation with the dealership's service department & told the technician what he could do to get us on the road with very little effort & time invested by them. (unplugging the fuel injector to a cylinder that is misfiring will prevent damage to the catalytic converter and still enable the vehicle to be driven……with 5 cylinders.) That might come in handy for you some day! Our mechanic called us back & said we had to request that specific work be done, since it was not something they would normally do in their service department. 
Friday, 3pm, we're relaying to the service manager that we want this 5 minute process done so that we will be able to get our vehicle home. He said he could not promise they would be able to get to it today because they close at 5 & their service department doesn't work on Saturday, so it would be next week before they could get to it. We were getting nowhere with this guy so I did that thing that I HATE to do & only do in desperate situations, I asked to speak to his manager. After being on hold for 20 minutes and getting disconnected two times, "Kevin", the manager comes to the phone and we explained our situation to him. He was extremely understanding, he even knew what we were asking would be a quick solution that would enable us to get the car home. He got it!! 
He explained how the service manager and the technician were both new and he would see to it that this request was completed by close of business so we could pick the car up on our way home. 10 minutes after we hung up the phone, they called back & said our car was good to go. We paid over the phone & they locked the keys in the car & put the invoice in there, too. WOW! If we didn't have a mechanic that we are loyal to, we would have been out thousands of dollars instead of $130. So that's my road trip nightmare story……or at least part of it. Not even gonna get into the car rental portion as that is still ongoing. 
If you're heading out for a long distance or short distance road trip, here are a few things to double check before you head out…..just in case. http://www.napsnet.com/articles/72090.html
Happy Trails!