MONDAY to FRIDAY -- 10:00 AM - 02:00 PM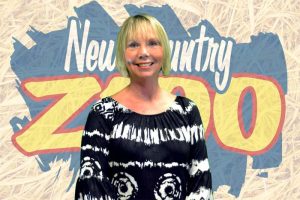 Name: Tracy McSherry-McKown
Hometown: Energy
Where's home now? (what town): Herrin
Family? Husband, Kent…..married 8 years
Kids? Bonus daughters: Bailey – 15 and Shelby – 12
Favorite thing(s) to do in Southern Illinois: Growing or attempting to grow tropical plants! Driving around the country roads & soaking up the natural beauty the landscape has to offer. Riding bikes another favorite pass time plus an occasional game of tennis.
Any hidden talents? None, whatsoever.
First Job: Cleaning the bathroom at The Craft Shop in Energy when I was in 5th grade.
Thornton's Market – cashier (first real gig).
Favorite Food: I'm a steak & potatoes girl.
Embarrassing childhood memory: Forgot my lines in a play at Energy Grade School sports banquet…….and then there was the time I forgot to put my tights on under my cheerleading outfit! UGH!!! Notice a recurring theme here……
Favorite Movie(s): Jerry McGuire; Horton Hears a Who
Favorite TV Show(s): The Daily Show with Jon Steware; The Soup; 60 Minutes
If you weren't at Z-100, where would you be? Working at a nursery (with plants). Or as an editor at a production company.
Best concert: Norah Jones at the Fox & Garth in Carbondale & Taylor Swift in St. Louis!
Worst concert: Alabama at Sikeston Rodeo
Favorite Country Artist: Raul Malo ( I know….that's a stretch )
Favorite Country Song: Oh What a Thrill
Bad habit? Hmmmmm…..where to begin…..sugarholic, need I say more?
Favorite Z-100 memory? There are so many, I forget.
What do you like best about working at Z-100? I never quit learning! Everyday is a new experience.
Crunchy or Creamy? Creamy
Strait or Jones? Strait
Boxers or Briefs? Brief boxers
Chinese or Mexican? Mexican