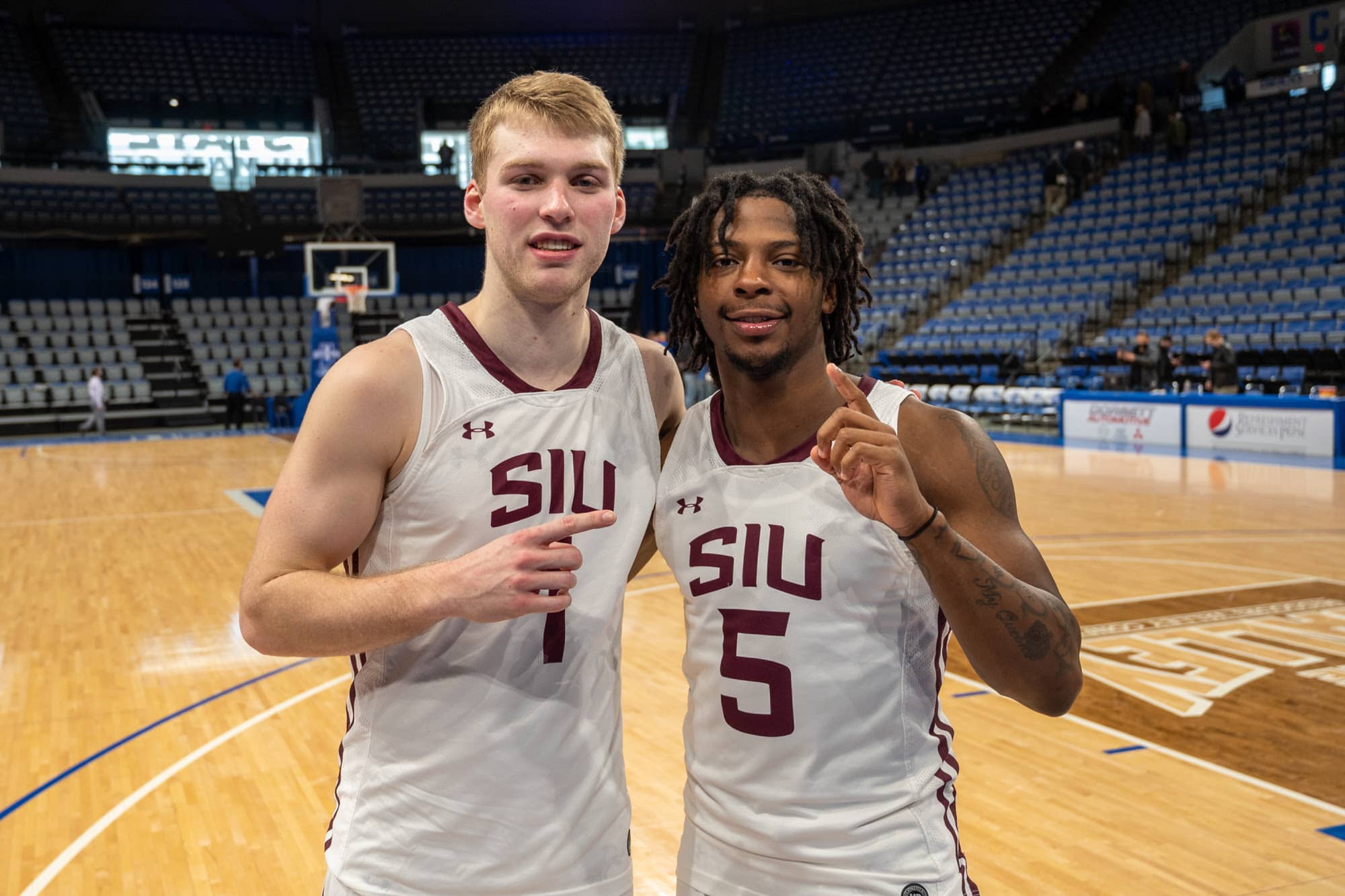 This piece originally featured on siusalukis.com
TERRE HAUTE, Ind. — Southern Illinois rallied back from a seven-point deficit to pick up a key road win at Indiana State on Saturday, 76-72, and clinch no worse than the No. 6 seed at the conference tournament.
"To see the smiles, to see the joy in the locker room afterward, that's what college basketball is about," said SIU head coach Bryan Mullins. "They made a bunch of winning plays. Everyone stepped up, and I'm just incredibly proud of the team."
The Salukis (15-13, 8-8), who have won three-straight games and four of their last six, were led by Marcus Domask with 24 points, and Lance Jones with 21 points. During the first half, both Jones and Domask surpassed the 1,000-career point milestone, becoming the 48th and 49th player in school history to do so.
"Those two guys have been with us from Day One and taken a lot of responsibility for this program," Mullins said, of the team's two junior leaders. "Through ups and downs, they've always showed up and represented the jersey extremely well."
Jones picked up his 1,000th point on a drive to the basket, flipping the ball with his left hand under two defenders for a bucket. Minutes later, Domask powered his way to the basket for a layup and career-point 1,000.
"To both get to 1,000 points, in the Valley, same game, on the road, and get the win, it's a great day," Domask beamed.
Jones also made a clutch 3-pointer from the top of the key with 3:53 remaining that gave SIU its first lead of the second half, 64-63.
It was two newcomers, though, who made huge contributions for SIU in the second half. After a scoreless first half, Ben Coupet Jr. hit four threes and scored all 16 of his points in the game's final 20 minutes.
"Coup's a mature player and plays with a sense of poise," Mullins said. "In the second half, he came up huge for us."
Freshman Troy D'Amico also made a big impact. With Southern struggling to defend forward Kailex Stephens, who led the Sycamores (11-16, 4-11) with 21 points, the 6-foot-8 D'Amico played 16 minutes off the bench in the second half and had two steals.
"Troy made some big plays defensively at the end," Mullins said. "They were posting us up a lot, and Troy had good physical presence and was able to get a key steal and deflection out of bounds."
D'Amico also scored a career-high seven points, including a huge three from the right corner with 1:08 remaining that put Southern up, 70-66.
"He plays with a lot of confidence for a freshman and is not afraid of the moment," Domask said.
Although Indiana State shot 57 percent, compared to 42 percent for SIU, the Salukis decisively won the turnover battle, forcing 13 and committing only six.
"I think every night, we can be the toughest team," Domask said. "To win road games you have to be tough, you have to get boards, turn teams over, and we did that tonight."
Southern finishes the regular season next week with a home game on Wednesday night versus Illinois State and a trip to Drake next Saturday. The Salukis are guaranteed to avoid the Thursday night play-in game and could finish as high as fourth in the league standings.