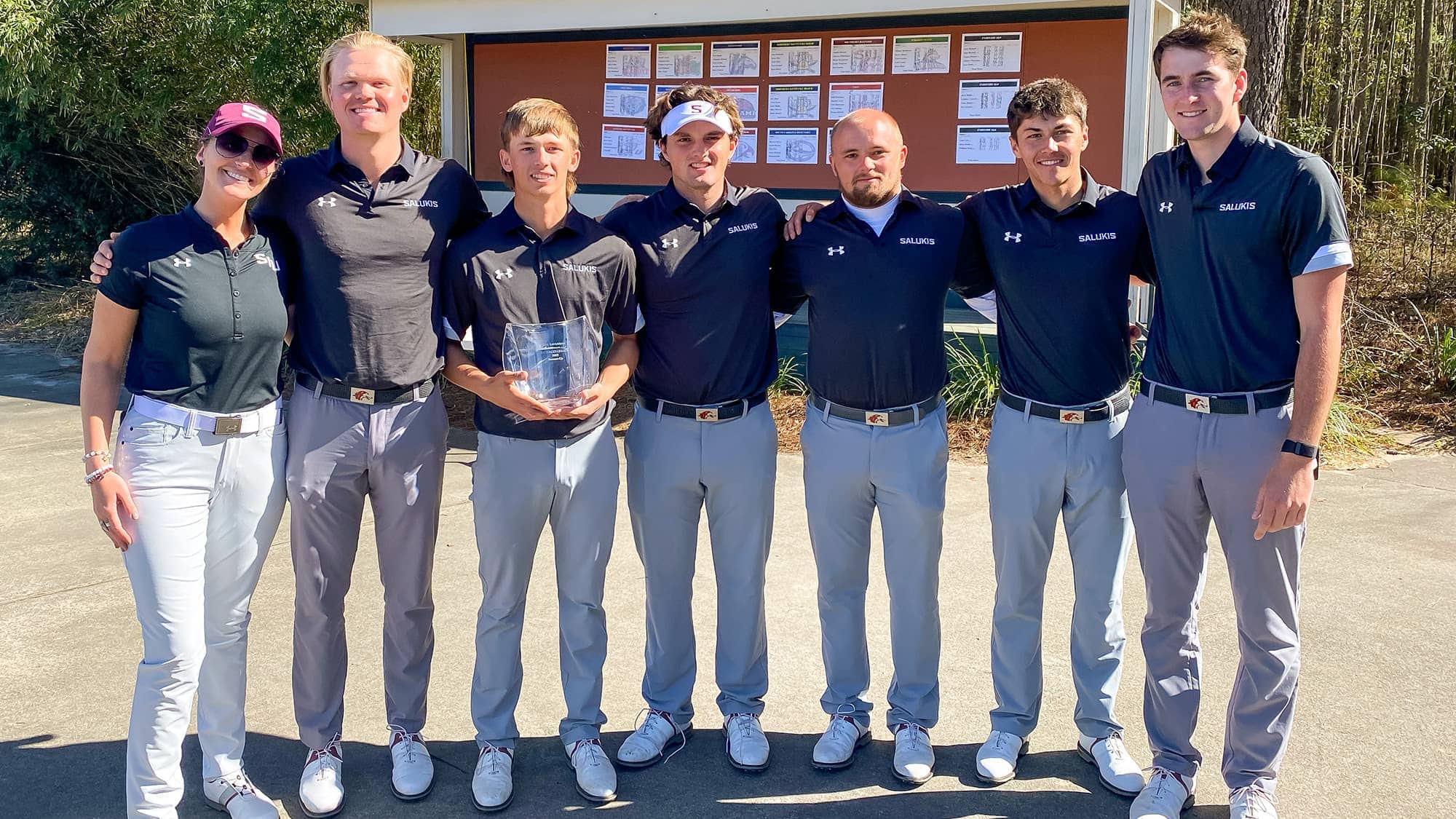 Senior Matthis Besard fired a season-best round of 64 (-8) at the Savannah Harbor Invitational, finishing first with a mark of 200 (-16) for the all-time low 54-hole score in Southern Illinois men's golf program history. Besard has now finished in the top-5 in his last five starts, with three individual titles.
The Salukis carded a final round of 285 to finish the tournament with a total of 858 (-6), runner-up behind Troy who tallied 856 (-8) on the weekend.
Senior Markus Wilhelmsen and sophomore Justin Wingerter each shot 71 in Sunday's final round at the Crosswinds Golf Club in Savannah, Georgia to finish tied for 13th at 217 (+1). Senior Tom Cleaton carded 224 (+8) to finish tied for 40th. Junior Birgir Magnusson tied for 53rd with a score of 229 (+13) and junior Andrew Thornton, who was playing as an individual this weekend, shot 230 (+14) to tie for 59th.
What's Next
The Salukis return to Carbondale, Illinois to prepare for the Desert Mountain Collegiate, hosted by the University of Michigan, on Saturday, March 5th in Scottsdale, Arizona.
Teams
1 Troy 288 280 288 = 856 (-8)
2 Southern Illinois 289 284 285 = 858 (-6)
3 Columbia 293 284 285 = 862 (-2)
4 Miami University (OH) 293 283 292 = 867 (+3)
5 Wright State 294 280 294 = 868 (+4)
6 South Carolina Beaufort 297 285 290 = 872 (+8)
7 Lafayette College 297 296 298 = 891 (+27)
8 Longwood 307 284 302 = 893 (+29)
T9 Northern Kentucky 307 292 297 = 896 (+32)
T9 SCAD – Savannah 294 306 296 = 896 (+32)
T11 Belmont 300 295 302 = 897 (+33)
T11 Florida A&M 300 291 306 = 897 (+33)
T11 Eastern Kentucky 305 294 298 = 897 (+33)
14 George Washington University 295 301 305 = 901 (+37)
15 North Carolina Central 338 308 330 = 976 (+112)
16 Northern Kentucky 341 323 318 = 982 (+118)
Southern Illinois 
1 Matthis Besard 66 64 70 = 200 (-16)
T13 Markus Wilhelmsen 72 74 71 = 217 (+1)
T13 Justin Wingerter 74 72 71 = 217 (+1)
T40 Tom Cleaton 77 74 73 = 224 (+8)
T53 Birgir Magnusson 77 76 76 = 229 (+13)
T59 Andrew Thornton 80 72 78 = 230 (+14) *Individual