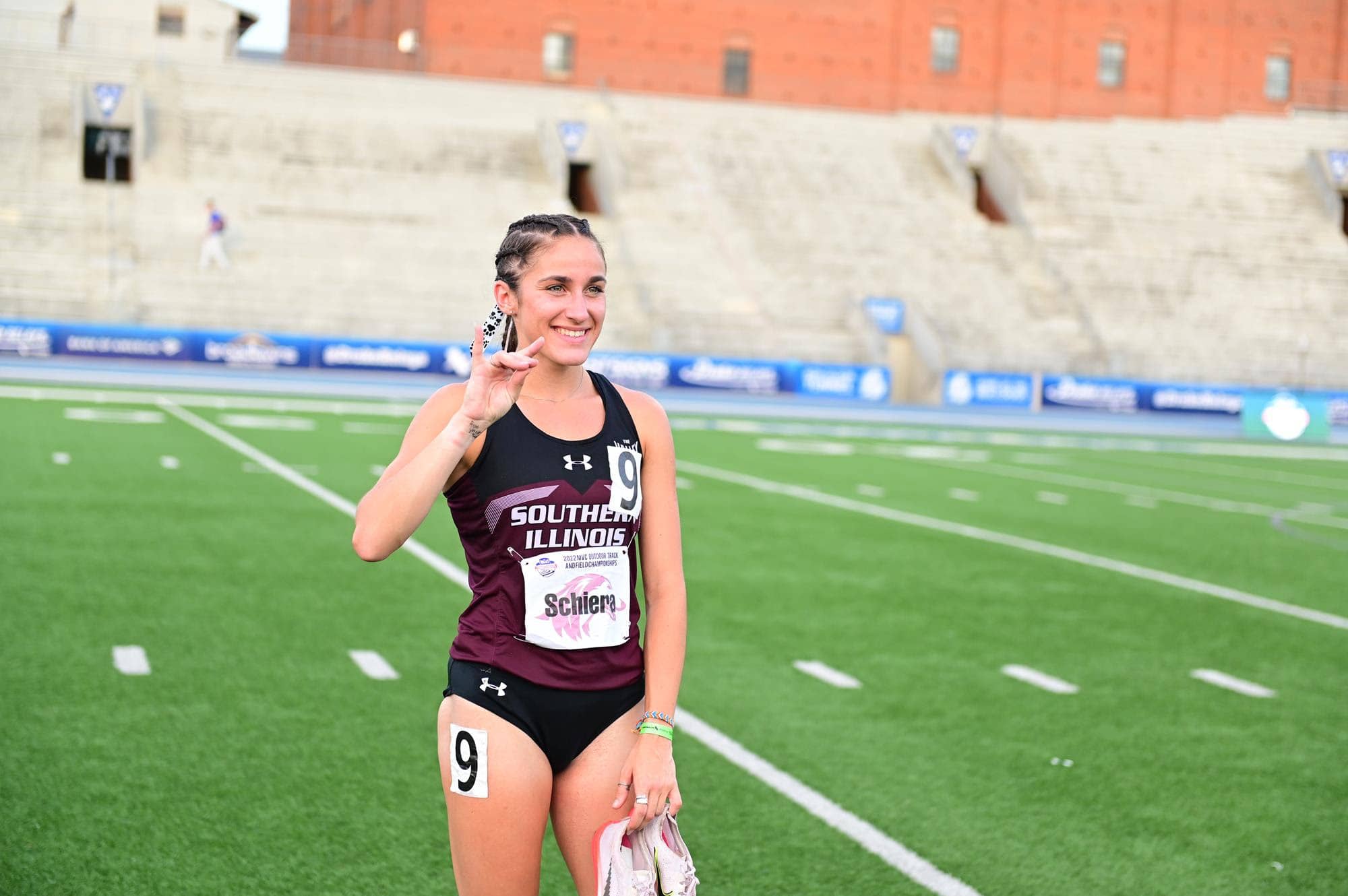 Kayla Schiera punched her ticket to the 2022 NCAA Outdoor Championships in Eugene, Oregon in the steeplechase on the fourth and final day of competition from the NCAA West Prelims in Fayetteville, Arkansas. Schiera makes the fourth Saluki student-athlete to qualify for nationals after A'veun Moore-Jones (shot put), Elisia Lancaster (hammer), and Shauniece O'Neal (hammer) advanced on day two.
Schiera will move on to the national meet for the first time in her career.  This was her third time at the regional prelims competing in the 3000m steeplechase.  Schiera ran in heat one of the event and finished in fifth with a time of 10:07.62.  That time was good enough to land her in 11th place overall, just inside the top-12 qualifying mark.
Iaunia Pointer closed out her stellar sophomore season on Saturday evening with her appearance in the 200m quarterfinals.  Pointer finished 20th overall with a time of 23.41.  She was a dual qualifier for the West Prelims where she competed in both the 100m and 200m.  This was her second trip to the regional meet, after qualifying as a freshman in 2021.
Both Trevor Thompson and Dawson Plab fell just short of their bid to reach nationals in the high jump on day three of the prelims.  Trevor Thompson made his regional meet debut and was able to clear 2.10m (6′ 10.75″), which landed him in a tie for 23rd place.  Dawson Plab narrowly missed the top-12 with his new personal best clearance of 2.15m (7′ 0.5″).  That found him tied 13th, ending his senior season in Fayetteville.
A total of ten student-athletes from the Missouri Valley Conference will be heading to the National meet.  Southern's four is the most out of the Valley schools.
Schiera, Moore-Jones, Lancaster, and O'Neal will continue their outdoor season at the 2022 NCAA Outdoor Championships on June 8-11.