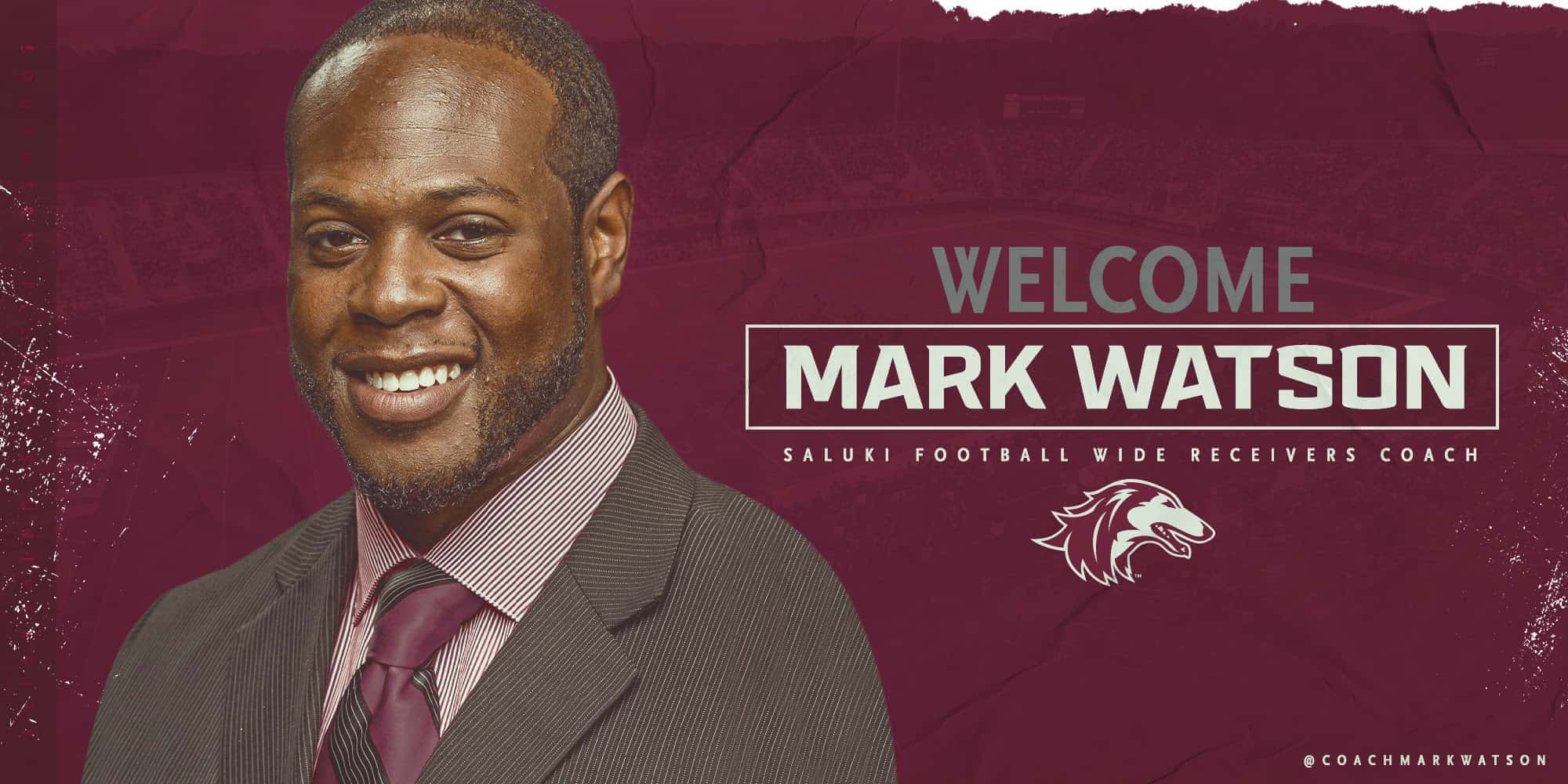 Southern Illinois football coach Nick Hill announced the hiring of Mark Watson as the team's wide receivers coach on Monday. He replaces Nick Williams, who left last month to become the offensive quality control coach for the New York Giants.
Watson has served the last four seasons on the staff of conference rival South Dakota, working as the program's defensive backs coach and head of player development.
"We are excited to add Mark and his family to Saluki football," Hill said. "Mark is someone I have always respected from afar, because his core values as a person fit with what we stand for. He will not just develop his players on the field, but also as people. He has a ton of experience in the Missouri Valley Football Conference and knows what it takes to win. He is a dynamic recruiter. I can't wait to get him started."
Players have thrived under Watson at each stop along his coaching career. In two seasons working with defensive backs at Drake (2010-11), the Bulldogs led the Pioneer Football League in interceptions both years. Drake won the PFL title in 2011, finished seventh nationally (FCS) in scoring defense and 10th in total defense.
In 2012, Watson joined USC as the graduate assistant coach for defensive backs. The Trojans ended the season 7-6 and the defense finished 41st in pass efficiency and tied for 40th in scoring defense.
Watson coached wide receivers at Western Illinois (2013-15), and in his second season, the Leathernecks boasted three 1,000-yard receivers on the same team, including first-team all-MVFC honoree Lance Lenoir Jr., who set a program record for receptions in a season. He coached Western's secondary in 2015 and helped the program return to the FCS playoffs for the first time since 2010.
At South Dakota, the Coyotes posted 43 interceptions in four seasons under Watson. That total included 15 in 2017, when the Coyotes advanced to the round of 16 of the FCS playoffs.
Originally from St. Charles, Missouri, Watson began his playing career at Missouri Southern before transferring to McPherson College. He was a two-year starter at McPherson and team captain his senior year. Watson graduated from McPherson in 2010 with a bachelor's degree in business management.
During his prep career at Francis Howell High School, Watson was a three-sport athlete in football, baseball and track. He helped his baseball team win the 2003 Class 4A state title and was a member of the 4×100 relay team that set the school record.
Watson and his wife, Antheria, have four children, Tatiana, Makayla, Amaya and Mark III.